Dr. Gerard DeBernardis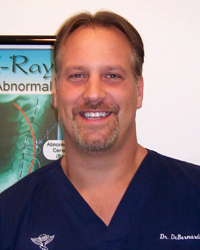 I attended undergraduate college at The College of New Jersey, formerly Trenton State College. There I started as a marine biology major, but eventually switched to pre-med after I decided I would rather dedicate my life to helping people achieve better health. I then attended New York Chiropractic College, learned everything I could to help people get well, and graduated Magna Cum Laude.
Chiropractor offers a fix to your health problems
The thing that sets my practice apart from the many other chiropractic offices in our Freehold community is that we offer patients the opportunity to achieve more than just "feeling good". We have designed programs combining corrective chiropractic care with physical therapy and rehabilitation to not only "patch" problems up, but actually fix them for good! I hope you get the chance to experience the difference in our office.
On a personal note..
When I'm not in my practice I enjoy a variety of physical activities and hobbies including offshore big game fishing, scuba diving, working out, playing ice hockey, and occasionally hitting golf balls into the woods on each side of the fairway. I love the outdoors and anything that has to do with the ocean (I was a marine biology major before I went pre-med)
I am a strong advocate of good nutrition, regular exercise, and of course chiropractic care. I have been getting adjusted for the past 21 years. Today I get adjusted 1 to 2 times per week to maintain the health of my spine. I truly enjoy helping my patient better their lives by teaching them how to live a healthier life.
Thanks for visiting our site. I look forward to meeting you in person and discuss your specific health concerns. Don't hesitate to give our contact us or email us your questions! (732) 683-1800
---
Dr. DeBernardis | (732) 683-1800