Andy Koser—Physical Therapist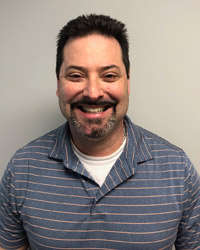 Andy is a graduate of The College of Staten Island, City University of New York. Since 2004, he has had the opportunity to work in a vast array of clinical settings. These include postoperative acute care, the intensive care unit, and geriatrics.
In 2012, Andy joined the Central Jersey Spine & Wellness team to provide outpatient physical therapy care in a multidisciplinary practice. He takes a conservative approach to physical medicine. Andy loves the profession and genuinely cares for others. His approach has become an integral part of his treatment philosophy.
When not providing care for patients, Andy has many hobbies. He enjoys reading, working on old homes, and spending time with his Basset Hound Huckleberry.
Get Started Today
Contact us today to schedule an appointment! (732) 683-1800
---
Freehold Physical Therapist, Andy Koser | (732) 683-1800